What is the Best Lens for Ice Hockey Photography?
Read more in the Hockey Photography Series:
Welcome to the world of hockey photography!
You're up against low light and fast action. Without a little bit of planning, it's the perfect recipe for blurry pictures.
You ready for a challenge?
Ultimately, the lens you should be using for ice hockey photography is the one you've got. Sitting around and dreaming about gear instead of going out and making the most of what you've had isn't going to teach you anything.
Sure, you're going to be dealing with some pretty extreme boundaries if you're shooting with the standard 17-55mm f/3.5-5.6 kit lens. But restrictions just teach creativity, so go out there and get creative!
I'm going to compile a list of some excellent lenses that you should think about getting if you want to take your hockey photography to the next level.
(Note that I'm referring to Canon lenses in this article, but that all camera companies make very similar lenses so you should be able to find an equivalent depending on your setup.)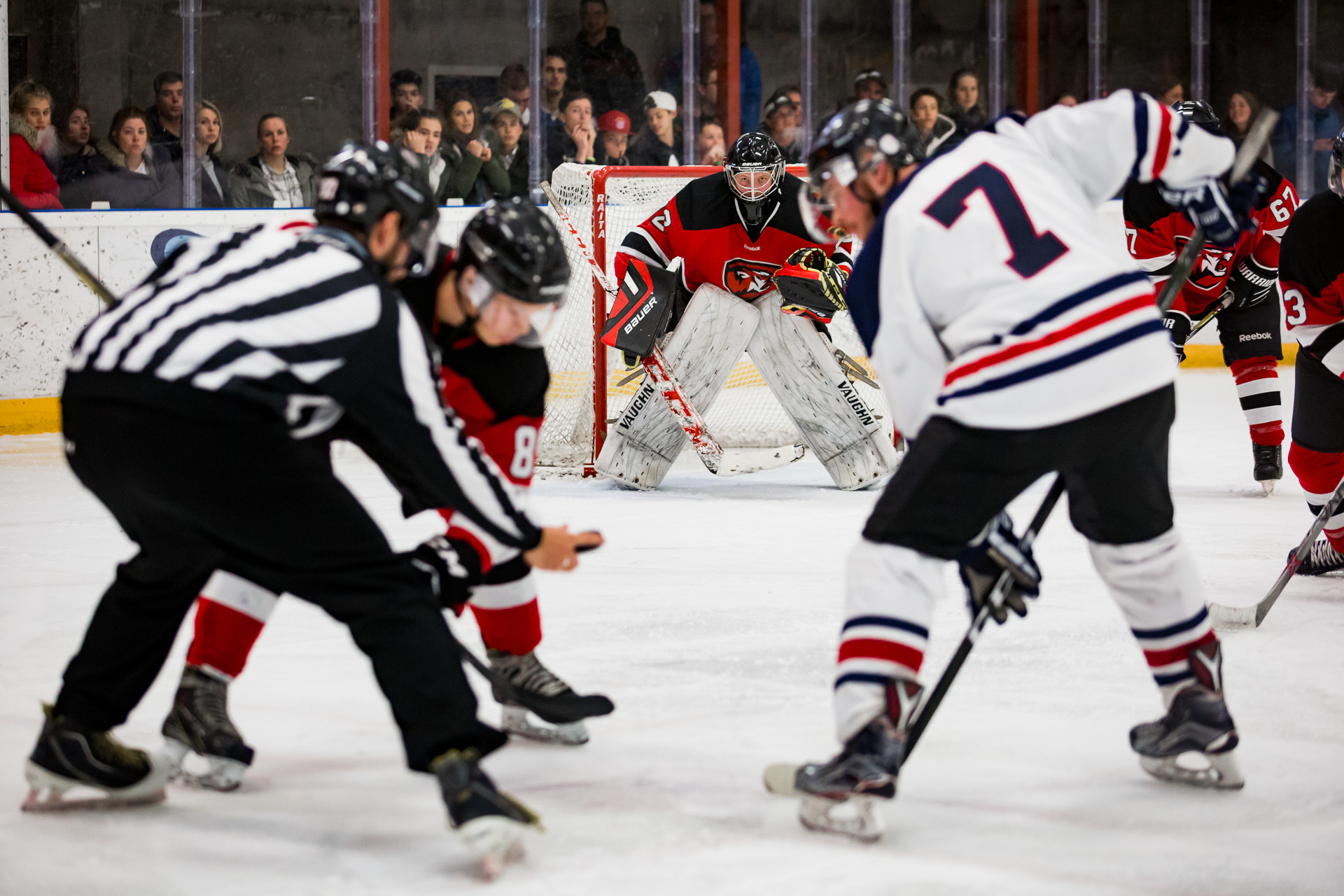 What to look for in an ice hockey lens
It's important to note that simply going out and spending lots of money on a lens won't automatically make your hockey pictures amazing.
You need to have a working knowledge of aperture, shutter speed and ISO in order to make the most of your lens.
The typical environment of a hockey arena is incredibly demanding even for top level cameras and lenses, so you need to know how to adjust your settings to get the most out of the light you have.
Our top choices for ice hockey lenses are going to have:
1. A wide aperture for collecting as much light as possible.
This is essential, as you aren't working with much light to begin with. Any light lost to a narrow aperture will have to be made up with in a slower shutter speed (increasing the potential for blur) or ISO (which adds noise to the shot)
2. Decent range to let you get close to the action.
As we'll read later, wide angles have their place in hockey photography, but unless you plan to get on the ice and skate around with the players you're going to need a lens with some reach.
Bonus: Adjustable zoom.
It isn't 100% necessary for getting the shot but certainly makes life much more convenient.
Alright, let's get down to it. Which lens is the top dog for hockey photography?
"Spending lots of money on a lens won't automatically make your hockey pictures amazing. You need to have a working knowledge of aperture, shutter speed and ISO in order to make the most of your lens."
Top Choice: 70-200mm f/2.8
Was there ever any doubt? Anyone who has ever used this lens knows it is a fantastic choice for sports photography.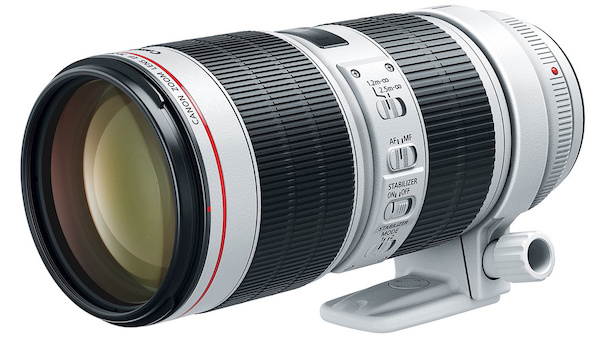 The excellent 70-200mm range gives you a lot of reach, allowing you to capture action on both ends of the rink.
An aperture that opens up to f/2.8 means you can collect a lot of light, and it allows a shallow depth of field that can help blur out distracting advertisements on the boards or spectators in the background.
This is a great lens to use from just about anywhere at the rink. Use it in the bench, the corner or up in the stands and you'll have great angles and options.
Bear in mind that depending on your ability to track the play and the camera's ability to focus, f/2.8 might result in a lot of missed focus shots. Considering moving down to f/4 if you notice that your shots are coming out soft.
A disadvantage of relying solely on a zoom lens like the 70-200 is that you can lose the atmosphere and ambience of a setting. Zoom lenses compress the background, meaning you can't show as much of the arena. If you want to give a perspective of the entire scene, you're going to have to go with our second choice lens.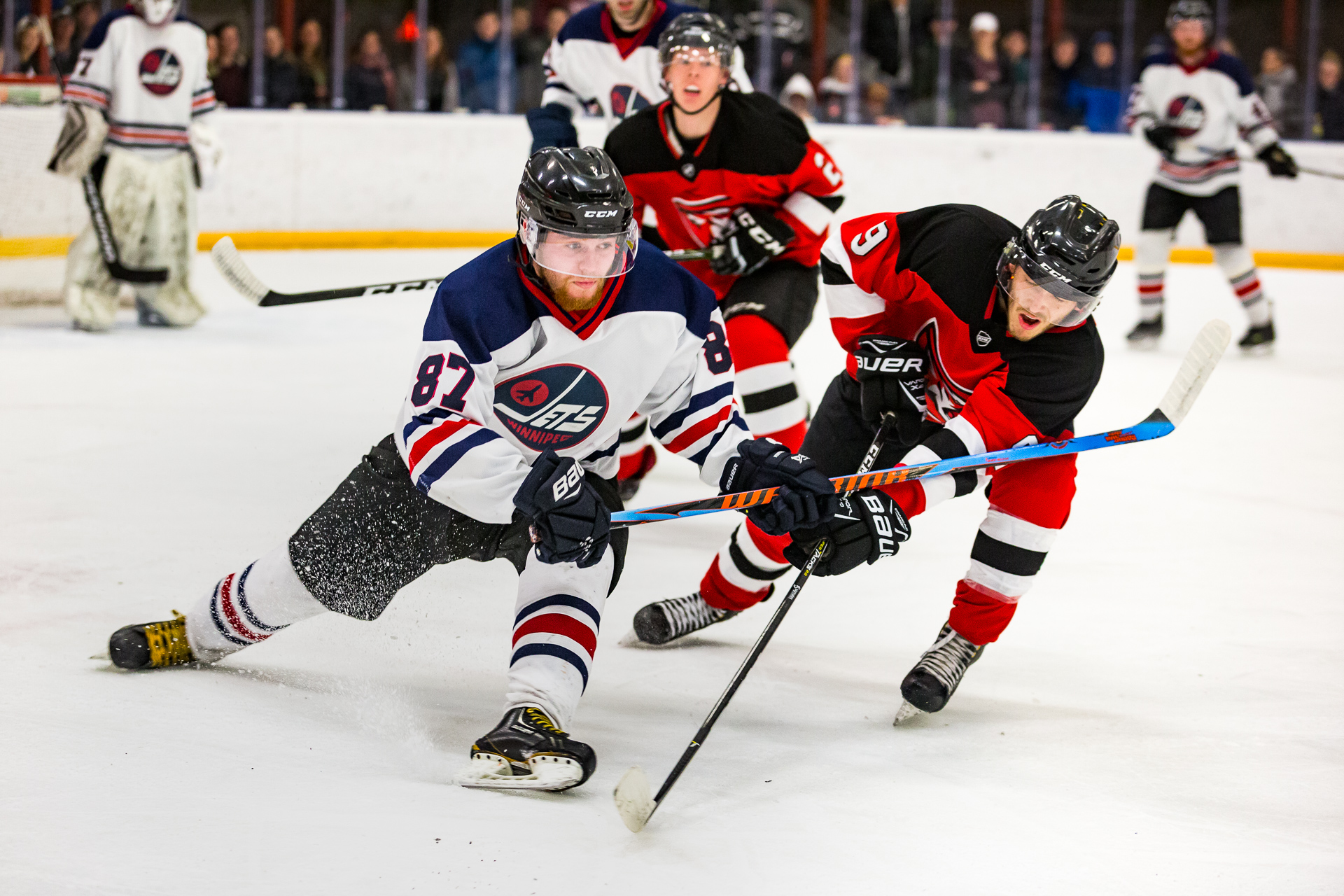 This play happened in the perfect spot for a 70-200mm lens shooting from the bench. The wide aperture gives lots of light to work with and the spray of ice from the skate is frozen in time.
Backup Choice: 24-70mm f/2.8 or your favourite wide angle lens
There's a battle for the puck in the corner. You're crouched behind the glass as the players beat each other up inches away from you. What's the right lens for this situation?
Once the action gets close, your 70-200mm lens isn't going to be an option anymore. Then it's time to pull out your 24-70mm or a roughly equivalent wide angle lens, such as the 17-40mm f/4.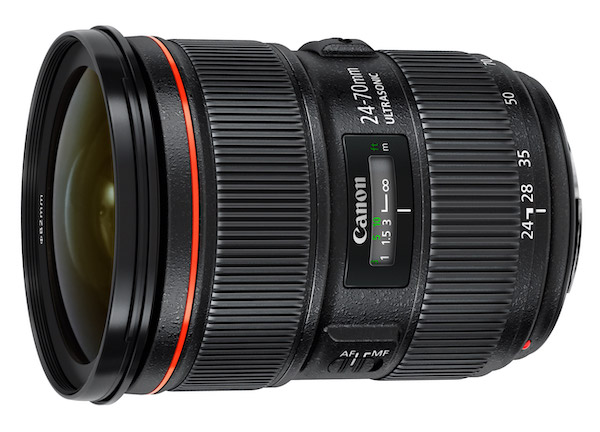 If you're really serious about hockey photography, you can have both this lens and the 70-200 on two different camera bodies, allowing you to switch between them quickly. There isn't exactly time to swap lenses every time the puck crosses the blue line.
Mid-range zoom or wide angle lenses let you get right against the glass for a different perspective. The shorter focal length shows more of the setting, which is great if you're in a packed arena with dramatic lighting.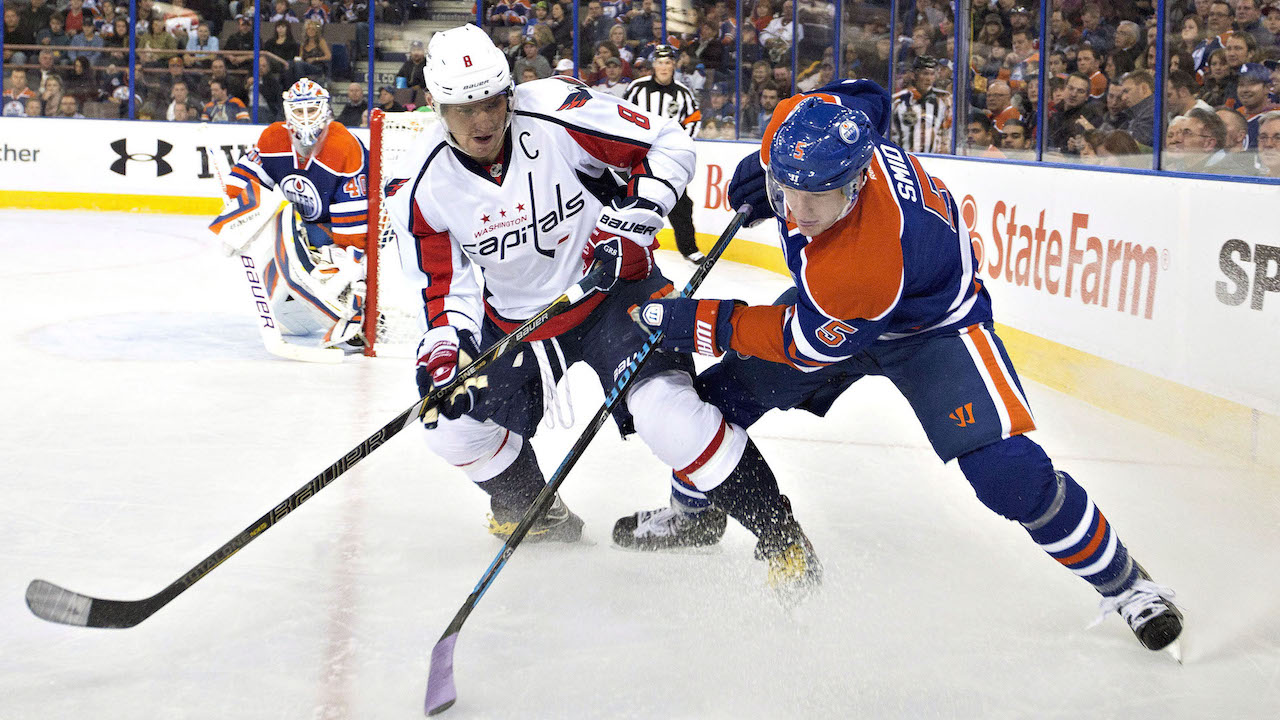 Image by Jason Franson. using a 16-35mm f/2.8 lens, similar to the 24-70mm f/2.8. It shows the players in full, as well as the goalie and arena in the background.
Not to be Underestimated: 50mm f/1.4 or 85mm f/1.8
Fixed lenses present a new challenge as you won't be able to adjust as the play moves towards and away from you.
All camera companies offer some great lenses in the 50 and 85mm ranges. An advantage with them is their super wide aperture, giving you lots of light.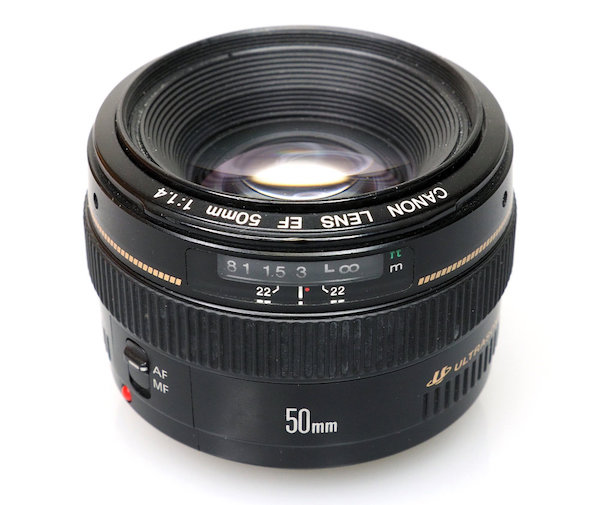 Shooting hockey with a prime lens means you need to do a bit more planning ahead. Rather than counting on tracking the play, you may need to wait for the play to come to where you want it to be.
Building a shot around the goalie, for example, will let you make the most of a fixed lens. Since he isn't going to move around too much, your shot will be in focus and you can compose the image with that in mind.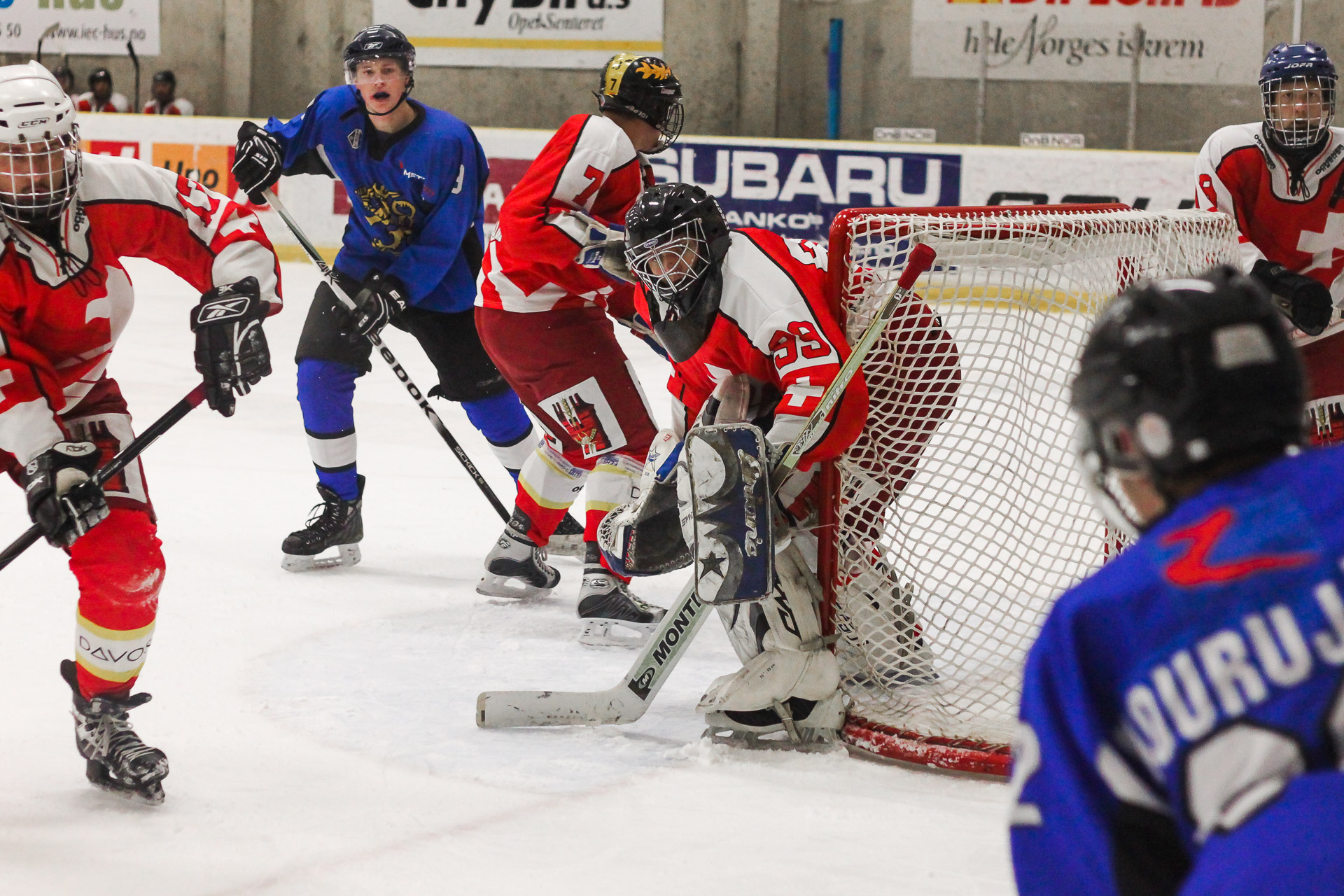 An old shot taken with the 50mm 1.8. Super cheap lens but decent results, with all things considered.
Shoot with what you've got!
I started the article by mentioning the challenge of shooting hockey with the standard kit lens that comes with a hobbyist camera.
Yes, there are lots of challenges. You won't have the aperture to collect lots of light and your shutter speed will suffer as a result.
But you still have options. With good technique, a kit lens can be used for a dramatic panning action shot, where the player is in focus and the background is blurred. This technique requires a steady hand and a slow shutter speed, but can be very fulfilling if you get it right.
Alternatively, you can wait for a break in the play and grab some snaps of players on the bench or waiting for the face-off. You might not have the money shot of ice chips flying and the puck frozen just before the goalline, but you'll have shots you can be proud of.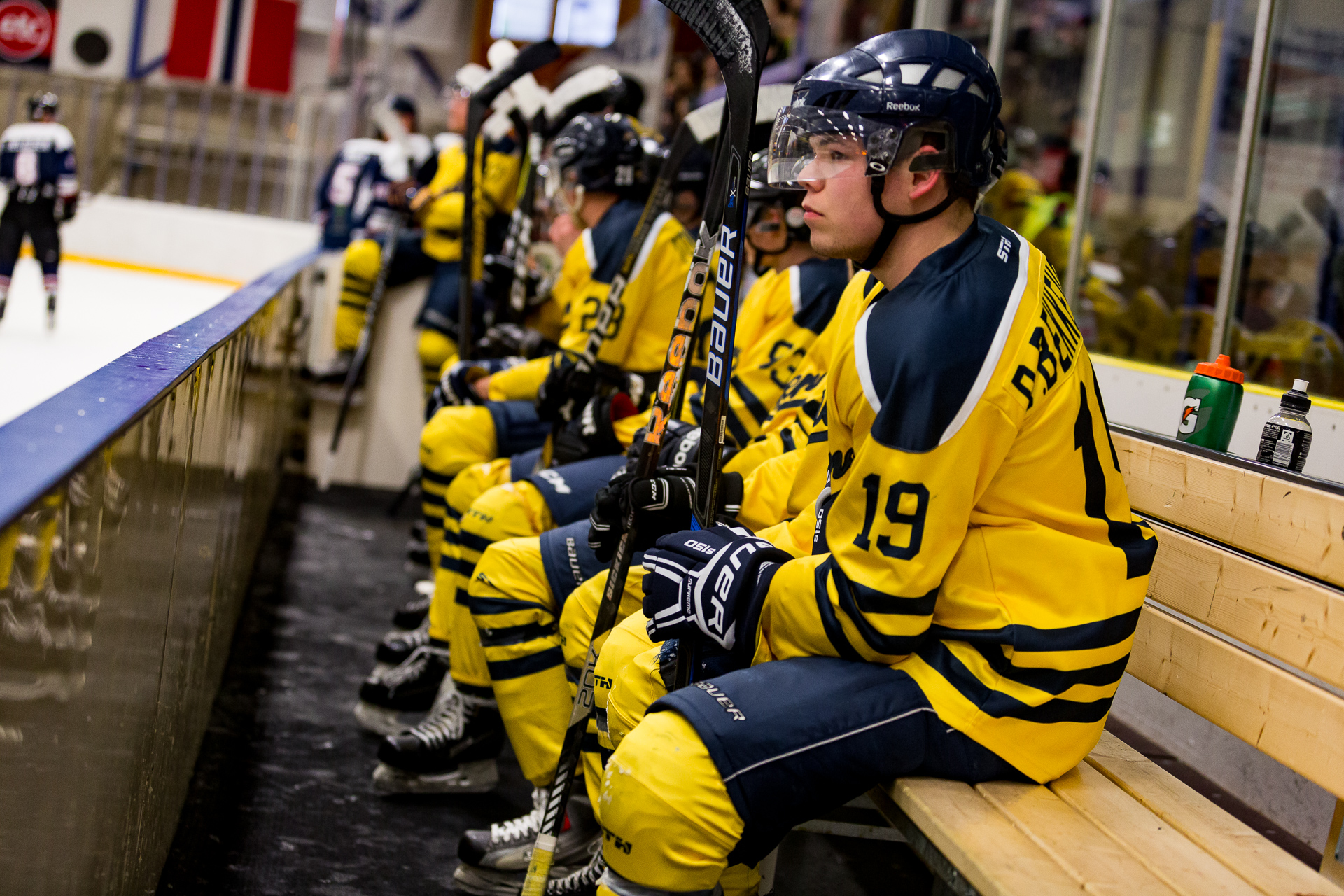 Make it happen!
So what are you waiting for? Hockey photography is a fun challenge for any photographer and with a bit of planning, preparation and knowledge you can come back from the rink with some excellent and dramatic action shots.
Got any questions or comments about what I've written?
Let me know in the comments below!
The latest posts from the Photography Blog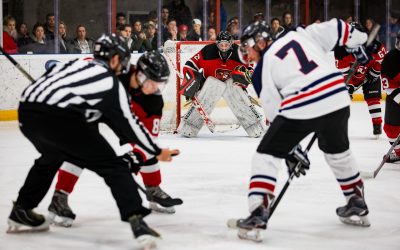 What are the best camera settings for hockey photography?Read more in the Hockey Photography Series:Have you ever tried to shoot hockey with your camera set to "Auto" or "Sport" and been disappointed with the results?Cameras are getting smarter every day, but it's...
Summary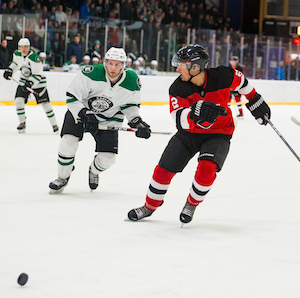 Article Name
What is the Best Lens for Ice Hockey Photography?
Description
A list of lenses you should think about getting to take your hockey photography to the next level.
Author
Publisher Name
Publisher Logo